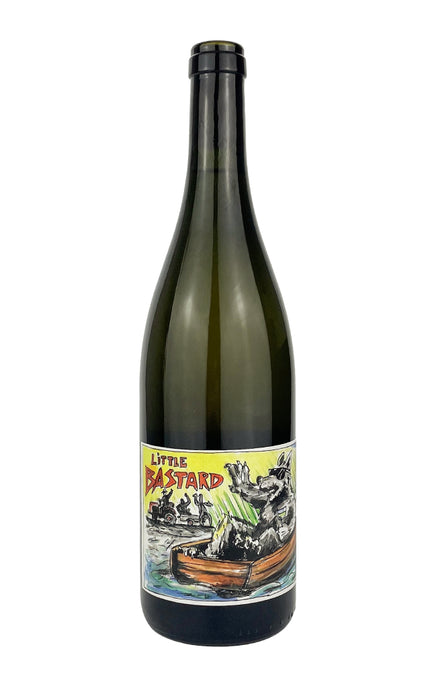 Staffelter Hof Little Bastard Wine
Staffelter Hof Little Bastard
ORGANIC / LOW SULPHITE / VEGAN

This complex German blend has a few hours of skin contact (apart from the few days that the Muscat gets), giving it even more texture and body. It smells funky and fruity, but the grey slate it's grown on ensures that it is tangy and bright. It's unfiltered and unfined, from an estate that has been around since (at least) 862 AD. The same family has run it since they purchased it from Napolean's government in 1805, and they've been moving towards more sustainability and natural practice since 2010.
Natural German Wine (Riesling)
Origin: Mosel, Germany
Vintage: 2021
Grape Variety: Riesling (60%), Sauvignon Blanc (25%), Muller Thurgau (12%), Muscat (3%)
Food Pairings: Sweet/spicy dishes; casseroles or pies
Bottle Size: 75cl
ABV: 11%
Staffelter Hof Little Bastard Wine

Introduction:
In the heart of the Mosel region in Germany, where vineyards stretch along the steep slopes of the river, lies a wine that defies convention and challenges the status quo—Staffelter Hof Little Bastard Wine. Join me as we embark on a journey of discovery, exploring the audacious character, distinctive flavours, and rebellious spirit of this captivating German gem.

Aromas and Bouquet:
As we raise a glass of Staffelter Hof Little Bastard Wine to our nose, we are greeted by an aromatic revelation that ignites curiosity. The wine presents a bold and vibrant bouquet with pronounced notes of ripe stone fruits, such as apricot and peach, entwined with hints of citrus zest and a touch of exotic tropical fruit. Floral undertones of white blossoms add a delicate layer of complexity, creating an intriguing fusion of scents that captures attention.

Taste Profile:
Staffelter Hof Little Bastard Wine makes a powerful impression on the palate, asserting its distinct personality. This off-dry Riesling boasts a remarkable balance of sweetness and acidity. Its upfront flavours of juicy stone fruits command attention, while zesty citrus notes add a refreshing twist. The wine's boldness is complemented by a subtle minerality, revealing the unique terroir of the Mosel region. With every sip, Little Bastard Wine surprises and delights, showcasing its audacity and individuality.

Texture and Finish:
In terms of texture, Staffelter Hof Little Bastard Wine leaves a lasting impact. It glides smoothly across the palate, showcasing a luscious and velvety mouthfeel. The wine's off-dry nature creates a pleasing richness, accentuating the fruit flavours and contributing to a well-rounded experience. The finish is long and satisfying, with a delicate balance between sweetness and acidity, leaving a trail of fruitiness that lingers on the taste buds.

Food Pairing:
Staffelter Hof Little Bastard Wine's unique profile lends itself to a range of bold and flavorful food pairings. Its touch of sweetness and lively acidity make it an excellent match for spicy cuisines, such as Thai or Indian dishes, as it helps to balance and complement the heat. The wine's fruit-forward character also pairs well with rich and savoury dishes, such as roasted pork, spicy sausages, or tangy barbecue. The contrasting flavours create a harmonious interplay that elevates the dining experience.

The Mosel Region:
To fully appreciate Staffelter Hof Little Bastard Wine, it's important to understand its origins within the Mosel region. Nestled along the winding Mosel River, this picturesque area is renowned for its steep vineyards, slate soils, and cool climate. These factors contribute to the unique characteristics of the region's Riesling wines, including Little Bastard Wine. The Mosel's distinct terroir, combined with the dedication and craftsmanship of its winemakers, gives rise to wines of exceptional quality and individuality.

Conclusion:
In German wines, Staffelter Hof Little Bastard Wine stands tall as a rebellious and audacious expression of the Mosel region. Its captivating aromas, bold flavours, and velvety texture challenge conventions and invite wine enthusiasts to embrace the unconventional. Whether enjoyed on its own or paired with bold and flavorful dishes, Little Bastard Wine promises a journey of intrigue and delight. So, raise a glass, celebrate the audacity, and savour the distinctive character of Staffelter Hof Little Bastard Wine. Prost!
What grape varieties are used in Staffelter Hof Little Bastard?
The specific grape varieties used in Staffelter Hof Little Bastard may vary depending on the vintage and the winemaker's choices. Staffelter Hof is known for cultivating traditional grape varieties of the Mosel region, such as Riesling and Pinot Noir. One or more of these varieties may be used in this wine.

How would you describe the style of Staffelter Hof Little Bastard?
The exact style and flavour profile of Staffelter Hof Little Bastard may vary depending on the specific vintage and winemaking techniques. However, being produced by a Mosel winery, it's likely that the wine would exhibit the characteristics typical of the region, such as a focus on freshness, acidity, and potential for minerality.

Is Staffelter Hof Little Bastard a dry or sweet wine?
The sweetness level of Staffelter Hof Little Bastard can vary depending on the vintage and style. The Mosel region is known for producing various wines, including dry, off-dry, and sweet styles. It's recommended to refer to the winery's specific information or tasting notes for the wine to determine its sweetness level.

Where can I purchase Staffelter Hof Little Bastard?
Staffelter Hof wines, including Little Bastard, can generally be found at select wine shops, online retailers, or directly from the winery itself. It is advisable to check with local wine retailers or visit the Staffelter Hof website for more information on where to purchase their wines and if Little Bastard is currently available.

Can Staffelter Hof Little Bastard be aged?
Depending on the vintage and specific characteristics of Staffelter Hof Little Bastard, it may have ageing potential. For example, some Riesling wines from the Mosel region can develop complex flavours and improve with some years of bottle ageing. It's recommended to consult the winery or their specific wine recommendations for guidance on the ageing potential of this wine.

Delivery Local delivery (E17, E10 postcodes): Free Available for deliveries within London E17, E10 postcodes only. Next day service* (*subject to availability)
Click & Collect: Free Place your order online, then pop by to our shop (149 Forest Rd, E17) during our opening hours to pick up your bottles. We will contact you as soon as your order is ready.
Standard Delivery: £8.95 Free over £70 (£8.95 standard charge) Next day service, we dispatch parcels Mon - Fri with DHL couriers. All orders placed until midnight will be dispatched next working day on next day service.
Returns: If you are unsatisfied for any reason, you may return your purchase within 30 days. Free to store, if not possible, the buyer is responsible for return shipping and may ship back the item using the carrier of their choice.