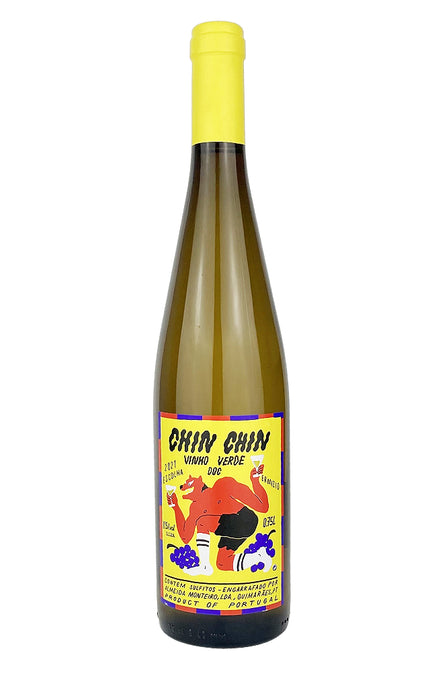 Chin Chin Vinho Verde - Quinta do Ermizio
LOW SULPHITE / SUSTAINABLE

Chin Chin Wine
Chin Chin Vinho Verde that offers bright notes of pear & nectarine are balanced by its coastal salinity & slight spritz. Delicious, ethically made, great value wine.

It comes as a courtesy of Noble Rot, the publishers of the fantastic quarterly wine magazine. For the label artwork they commissioned Jose Miguel Mendez, a long-standing Noble Rot contributor, to create an eye-catching label that encapsulated the spirit of the project. Chin Chin.
Origin: Vinho Verde, Portugal
Vintage: 2022
Grape variety: Loureiro, Arinto, Trajadura
Food pairing: Shellfish, Vegetarian, Appetizers and snacks
ABV: 11.5%
Chin Chin Vinho Verde: A Refreshing Journey through Portuguese Tradition

Introduction:
In the vast and diverse world of wines, few regions hold the charm and character of Portugal. Nestled in the northwest corner of this beautiful country lies the Vinho Verde region, renowned for producing wines that embody the essence of freshness and vitality. Today, we embark on a delightful exploration of one such gem from this esteemed region—Chin Chin Vinho Verde. Join me as we unravel the story behind this captivating wine, celebrate its unique qualities, and indulge in a sensory journey like no other.

Aromas and Bouquet:
As we raise our glass of Chin Chin Vinho Verde to our nose, we are greeted by an enticing and invigorating fragrance. The wine exudes a bouquet of crisp green apple, zesty citrus notes, and delicate hints of white flowers. The aromatic symphony is beautifully balanced, offering a harmonious blend of fruity and floral undertones that prepare our senses for what lies ahead.

Taste Profile:
Chin Chin Vinho Verde dances on the palate with a vivacious personality, captivating both the novice and seasoned wine enthusiasts. Its light-bodied nature is accompanied by a lively acidity, creating a refreshing and mouthwatering experience. The primary flavors of green apple and citrus zest take center stage, providing a delightful tanginess that invigorates the taste buds. Subtle mineral nuances add depth to the wine, contributing to its complexity and creating an intriguing interplay of flavors.

Texture and Finish:
One of the standout features of Chin Chin Vinho Verde is its textural finesse. The wine displays a slight effervescence, commonly referred to as "petillance," which adds a playful and lively touch to each sip. This delicate fizz enhances the wine's overall refreshing character, leaving a gentle tickle on the tongue. The finish is clean and crisp, lingering with a pleasant citrusy brightness that entices us to take another sip.

Food Pairing:
Chin Chin Vinho Verde's versatile and vibrant nature makes it an ideal companion for a myriad of culinary delights. Its crisp acidity and light-bodied profile harmonize exceptionally well with seafood dishes, such as grilled prawns, lemon-buttered scallops, or fresh ceviche. The wine's zesty flavors also complement light salads, herb-infused chicken, and soft cheeses, providing a perfect balance to the meal.

The Vinho Verde Region:
To truly appreciate the charm of Chin Chin Vinho Verde, it's crucial to understand its roots within the Vinho Verde region. Located in the verdant northwestern corner of Portugal, this enchanting wine-producing region is known for its cool maritime climate and fertile soils. The unique terroir, influenced by the Atlantic Ocean and the region's abundant rainfall, imparts a distinctive freshness and vivacity to the wines produced here.

In the world of wine, Chin Chin Vinho Verde stands tall as an embodiment of the Vinho Verde region's rich heritage. Its vibrant aromas, lively acidity, and tantalizing flavours encapsulate the essence of Portuguese winemaking traditions. Whether enjoyed on a warm summer's day or paired with delectable seafood delicacies, Chin Chin Vinho Verde promises an exquisite journey for the senses. So, raise a glass, savor each sip, and allow yourself to be transported to the Vinho Verde region's sun-drenched vineyards and lush landscapes. Chin Chin!


Q: What is Chin Chin Vinho Verde?
 A: Chin Chin Vinho Verde is a type of wine produced by Quinta do Ermizio, a renowned winery in the Vinho Verde region of Portugal. It is a light, refreshing white wine known for its vibrant acidity and slight effervescence.
Q: How is Chin Chin Vinho Verde made?
 A: Chin Chin Vinho Verde is made from a blend of indigenous Portuguese grape varieties, including Loureiro, Trajadura, and Arinto. The grapes are harvested and then gently pressed to extract the juice. The fermentation process takes place at low temperatures to preserve the wine's fresh and fruity aromas.
Q: What does Chin Chin Vinho Verde taste like?
 A: Chin Chin Vinho Verde has a crisp and lively flavor profile. It offers citrusy notes of lemon and grapefruit, along with hints of green apple and tropical fruits. The wine is also characterized by its zesty acidity and a subtle mineral undertone.
Q: Is Chin Chin Vinho Verde sweet or dry?
 A: Chin Chin Vinho Verde is typically classified as a dry wine. It has a minimal residual sugar content, which contributes to its refreshing and thirst-quenching nature.
Q: Can Chin Chin Vinho Verde be paired with food?
 A: Yes, Chin Chin Vinho Verde pairs well with a variety of dishes. Its vibrant acidity makes it a great companion for seafood, grilled vegetables, salads, and light appetizers. It also complements spicy dishes and Asian cuisine.
Q: Is Chin Chin Vinho Verde suitable for vegans?
 A: Yes, Chin Chin Vinho Verde is suitable for vegans. It is produced without the use of animal-derived fining agents, making it a vegan-friendly wine option. 
Delivery Local delivery (E17, E10 postcodes): Free Available for deliveries within London E17, E10 postcodes only. Next day service* (*subject to availability)
Click & Collect: Free Place your order online, then pop by to our shop (149 Forest Rd, E17) during our opening hours to pick up your bottles. We will contact you as soon as your order is ready.
Standard Delivery: £8.95 Free over £70 (£8.95 standard charge) Next day service, we dispatch parcels Mon - Fri with DHL couriers. All orders placed until midnight will be dispatched next working day on next day service.
Returns: If you are unsatisfied for any reason, you may return your purchase within 30 days. Free to store, if not possible, the buyer is responsible for return shipping and may ship back the item using the carrier of their choice.