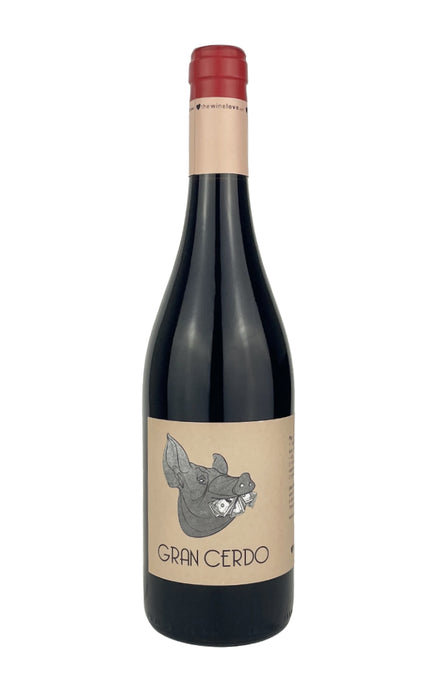 Gran Cerdo Tempranillo, Rioja
Gran Cerdo - Declassified Rioja from a winemaker who dislikes playing by the rules. The lovely cherry colour in the glass carries through to the nose along with other red fruit and cassis. Surprisingly juicy and acidic for the grape, this has excellent acidity and a soft, fruity palate. Fresh on the finish, with a bit of length. A great anytime red.
Dedicating the Gran Cerdo label (which translates to Big Pig in Spanish) to the bank executives who wouldn't give him a loan to start his wine business, Gonzalo Grijalba has developed a bit of a cult following. He's hugely passionate about reclaiming the biodiversity of the earth he farms and has eschewed more commercial practices involving pesticides and herbicides for more biodynamic methods.

Origin: Rioja, Spain
Vintage: 2022
Grape variety: Tempranillo
Food pairing: Roasted white meat, lamb, charcuterie, salads
Bottle size: 75cl
ABV: 13.5%
Gran Cerdo Tempranillo, Rioja: A Passionate Expression of Spanish Heritage

Introduction:
In the heartland of Spain, amidst the ancient vineyards of the illustrious Rioja region, lies a wine that captures the essence of tradition, warmth, and passion—Gran Cerdo Tempranillo. Join me on a journey through this remarkable Rioja gem as we uncover its vibrant character, delve into its rich history, and celebrate the allure of Spanish winemaking at its finest.

Aromas and Bouquet:
As we inhale the captivating essence of Gran Cerdo Tempranillo, we are greeted by an aromatic symphony that beckons us further. The wine presents a bouquet of ripe red berries, luscious black cherries, and enchanting floral notes. Layers of vanilla and subtle hints of spice emerge, courtesy of its careful ageing in oak barrels. This enticing medley of aromas sets the stage for an unforgettable sensory experience.

Taste Profile:
Gran Cerdo Tempranillo delights the palate with its vitality and depth, showcasing the true essence of its grape variety. The wine is medium-bodied and well-structured and has a beautiful balance of fruit, acidity, and tannins. The primary flavours of juicy red berries and succulent cherries dance on the taste buds, intertwining with gentle hints of earthiness and smokiness. With every sip, Gran Cerdo Tempranillo reveals layers of complexity, delivering a gratifying and harmonious tasting experience.

Texture and Finish:
In the realm of texture, Gran Cerdo Tempranillo showcases its mastery. Silky and velvety on the palate, it captivates with its smoothness and finesse. The well-integrated tannins provide a gentle structure that supports the wine's flavors, offering a satisfying mouthfeel. The finish is long and lingering, leaving a trail of dark fruit and subtle oak undertones that leave a lasting impression.

Food Pairing:
Gran Cerdo Tempranillo's versatility makes it a delightful companion for various culinary delights. It's medium-bodied nature and well-balanced acidity make it an excellent match for Spanish tapas, such as chorizo, patatas bravas, or Jamón Ibérico. The wine's fruit-forward character also pairs beautifully with roasted lamb, grilled vegetables, or aged cheeses, enhancing the flavours and creating a harmonious dining experience.

The Rioja Region:
To fully appreciate Gran Cerdo Tempranillo, it is essential to understand its roots within the Rioja region. Rioja is situated in northern Spain and renowned for its winemaking heritage and picturesque landscapes. The region's diverse soils, coupled with the influence of the Ebro River and the Mediterranean climate, contribute to the unique character of its wines. Rioja wines, including Gran Cerdo Tempranillo, often embody a balance of tradition and innovation, resulting in wines of exceptional quality and finesse.

Conclusion:
In the realm of Spanish wines, Gran Cerdo Tempranillo stands tall as a testament to Rioja's legacy and the passion of its winemakers. Its captivating aromas, harmonious flavours, and velvety texture come together to create a sensory experience that pays homage to Spain's rich cultural heritage. Whether enjoyed on its own or paired with delectable Spanish cuisine, Gran Cerdo Tempranillo promises an unforgettable journey through the vineyards of Rioja. So, raise a glass, embrace the spirit of Spain, and savour the passion and artistry of Gran Cerdo Tempranillo. ¡Salud!


What is Gran Cerdo Tempranillo, Rioja?
Gran Cerdo Tempranillo is a type of wine produced in the Rioja region of Spain. It is a red wine made primarily from the Tempranillo grape variety, the Rioja region's most famous and widely planted grape.



How does Gran Cerdo Tempranillo differ from other Rioja wines?
Gran Cerdo Tempranillo stands out for its organic production approach, reflecting the winery's commitment to sustainable and eco-friendly winemaking practices. It showcases the true expression of the Tempranillo grape with its fruity and elegant characteristics.

What is the flavour profile of Gran Cerdo Tempranillo?
Gran Cerdo Tempranillo typically offers red and dark fruit flavours like cherry, raspberry, and black. Depending on the ageing process, it may also have subtle notes of vanilla and oak.

Is Gran Cerdo Tempranillo an organic wine?
Yes, Gran Cerdo Tempranillo is an organic wine. The "Gran Cerdo" line from the Gonzalo Gonzalo winery is known for its dedication to organic and sustainable winemaking practices.

What food pairs well with Gran Cerdo Tempranillo?
Gran Cerdo Tempranillo pairs well with various dishes, including grilled meats, roasted vegetables, stews, and Spanish tapas. Its medium body and fruit-forward character make it versatile for multiple cuisines.



Can I age Gran Cerdo Tempranillo?
Gran Cerdo Tempranillo is generally meant to be enjoyed young and fresh. While it may have some ageing potential, it is best consumed within a few years after its release to maintain its vibrant fruit flavours.



Is Gran Cerdo Tempranillo suitable for vegans?
Yes, Gran Cerdo Tempranillo is considered vegan-friendly. The winery avoids using animal-derived fining agents during the winemaking process.



How should I serve Gran Cerdo Tempranillo?
Gran Cerdo Tempranillo is best served at cellar temperature, typically between 14-16°C (57-61°F). Allow the wine to breathe briefly before serving to enjoy its aromas and flavours.

Can I visit the Gonzalo Gonzalo winery in Rioja?

Yes, if you're interested in exploring the winery and tasting its wines in person, you can plan a visit to the Gonzalo Gonzalo winery in the Rioja region of Spain. However, it's a good idea to check their website or contact them in advance to confirm visiting hours and availability for wine tastings.
Delivery Local delivery (E17, E10 postcodes): Free Available for deliveries within London E17, E10 postcodes only. Next day service* (*subject to availability)
Click & Collect: Free Place your order online, then pop by to our shop (149 Forest Rd, E17) during our opening hours to pick up your bottles. We will contact you as soon as your order is ready.
Standard Delivery: £8.95 Free over £70 (£8.95 standard charge) Next day service, we dispatch parcels Mon - Fri with DHL couriers. All orders placed until midnight will be dispatched next working day on next day service.
Returns: If you are unsatisfied for any reason, you may return your purchase within 30 days. Free to store, if not possible, the buyer is responsible for return shipping and may ship back the item using the carrier of their choice.